Home » Products » NASLite-2 x64
NASLite-2 x64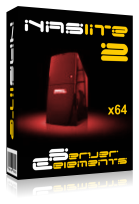 NASLite-2 x64 is a high-performance 64-bit Network Attached Storage Server Operating System designed to provide quick, easy and reliable networked file storage for a multitude of networked clients. NASLite-2 x64 provides networked file storage services to Windows, Apple OSX, UNIX and other clients via SMB/CIFS, AFP, NFS, FTP, HTTP and RSYNC protocols simultaneously.
| | | |
| --- | --- | --- |
| NASLite-2 x64 CD-ROM Downloadable ISO Image (11.1MB) | $29.95 | |
NASLite-2 x64 Overview

NASLite-2 x64 Features

NASLite-2 x64 Documentation

NASLite-2 x64 Release History
NOTE: Your NASLite-2 x64 credit card order will be processed by CEE Network Services using PayPal. Shortly after your PayPal payment confirmation you will receive an email with complete download instructions. The instructions will be automatically sent to your PayPal-registered email address or the email address you provide to PayPal as part of this transaction. Please make sure that the email address you intend to use is valid and working.