www.serverelements.com

Home » Products » NanoNAS
NanoNAS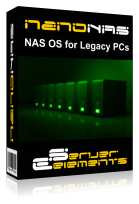 NanoNAS is a high-performance 32-bit Network Attached Storage Server Operating System designed to provide quick, easy and reliable networked file storage to networked clients. Designed primarily for use with legacy PCs, NanoNAS provides networked file storage services to Windows or Apple OSX clients via SMB/CIFS or AFP respectively.
| | | |
| --- | --- | --- |
| NanoNAS CD-ROM Downloadable ISO Image (7MB) | $9.95 | |
NanoNAS Overview

NanoNAS is a Network Attached Storage (NAS) Server Operating System designed to transform a basic computer into a dedicated HTTP, SMB/CIFS or AFP file server. Designed to fit on a single floppy disk, NanoNAS is perhaps the most compact 32-bit NAS OS available. NanoNAS is intended for use in any low-security environment or application that requires the simultaneous availability of large amounts of inexpensive networked storage. A single NanoNAS server is capable of exporting terabytes of networked storage and is capable of handling 50 or more networked users easily and efficiently even when running on modest hardware. By design, NanoNAS is a community workgroup server and does not support features such as user management, disk quotas or the ability to join domains. However, it is very easy to set-up, to administer and to use.

The NanoNAS CD-ROM contains two versions as follows:

NanoNAS SMB - Boots off of and saves configuration settings to floppy disk. Designed primarily for use with WindowsTM clients, it exports all available storage space via SMB/CIFS and HTTP.
NanoNAS AFP - Boots off of and saves configuration settings to floppy disk. Designed primarily for use with Apple OS X clients, it exports all available storage space via AFP and HTTP.

NanoNAS Provides Extensive Status Information

NanoNAS Features

NanoNAS is optimized to perform at maximum efficiency with minimum of hardware requirements. Designed with simplicity in mind, NanoNAS is compact, stable and very reliable. NanoNAS boots directly into RAM where it runs in a modestly sized 4MB RAM-Disk. This approach ensures consistent and reliable OS operation. NanoNAS offers the following features and benefits:

Easy to operate and to administer
Inexpensive to run and maintain
Boots directly into RAM
Remote administration through TELNET
Simple configuration menus
Stable and reliable
SMB/CIFS and HTTP or AFP and HTTP exported file systems
BIOS independent fixed disk drive support
Support for IDE (PATA) connected fixed disk drives
Support for multiple IDE (PATA) interfaces
HTML-based status report pages
S.M.A.R.T. support
Large partition and file support*
Extremely compact in size (Runs in an 4MB RAM Disk)
Low hardware requirements
Wide range of PCI hardware support
(ISA and EISA not supported)

NanoNAS Documentation

NanoNAS Base System Requirements:

Pentium or better processor
PCI bus
32M or more of RAM
Conventional 3.5 inch floppy disk drive
1 or more fixed disk drives
PCI or on-board network interface adapter

NanoNAS Installation and Administration:

NanoNAS Hardware Reference:

For support or additional information on NanoNAS and other related products, please review the Documentation and Support sections.

NanoNAS Release History

NanoNAS v2.1

Update SMB daemon adding unrestricted support for large files (4G+).
Update NanoNAS SMB daemon configuration logic
Update Status Pages generation code with general tweaks and updates
Update Administration Utility management code with general tweaks and updates
Perform general code cleanup

NanoNAS v2.0
NOTE: Your NanoNAS credit card order will be processed by CEE Network Services using PayPal. Shortly after your PayPal payment confirmation you will receive an email with complete download instructions. The instructions will be automatically sent to your PayPal-registered email address or the email address you provide to PayPal as part of this transaction. Please make sure that the email address you intend to use is valid and working.
Title: NanoNAS
URL: http://www.serverelements.com/?target=NanoNAS
Printed: Saturday September 18th, 2021

Copyright © 2021 Server Elements
All Rights Reserved