NASLite-M2 x64 is a Multimedia Network Attached Storage (NAS) Server Operating System designed to transform a basic computer into a dedicated UPNP, DAAP, SMB/CIFS, NFS, AFP, FTP, HTTP and RSYNC file server. In addition to conventional networked storage capabilities, NASLite-M2 x64 can natively stream audio and video content to both DAAP (Digital Audio Access Protocol) and UPNP (Universal Plug and Play) network clients.
DAAP clients such as iTunes and other hardware and software-based music players can now stream media from the NASLite-M2 x64 server without the ability to natively mount exported volumes. Along the same lines, UPNP clients such as PlayStation 3, XBOX 360, Windows Media Center, etc. can also play NASLite-M2 x64 hosted content. UPNP streaming is enhanced by profiles targeting DLNA, XBOX, PS3 and Generic media clients directly.
NASLite-M2 x64 boots from a variety of IDE, SATA SCSI, USB, FireWire or Hardware RAID devices and is intended for use in any application that requires the simultaneous availability of large amounts of fast and inexpensive networked storage. A single NASLite-M2 x64 server is capable of exporting terabytes of networked storage and can handle hundreds of networked users easily and efficiently, even when running on modest hardware.
NASLite-M2 x64 offers unsurpassed versatility allowing full access to all its storage resources. Content can be accessed simultaneously using any of the supported protocols. Fully-automated monitoring and intelligent resource management make NASLite-M2 x64 an excellent performer in high-traffic storage applications. Daily mirror backups between local or remote drives ensure data safety. High performance and low maintenance have established NASLite-M2 x64 as one of the best investments in networked storage. Using NASLite-M2 x64 is simple and a perfect solution for both home and business.
By design, NASLite-M2 x64 is a community workgroup server and does not support features such as user management, disk quotas or the ability to join domains. However, it is very easy to set-up, to administer and to use.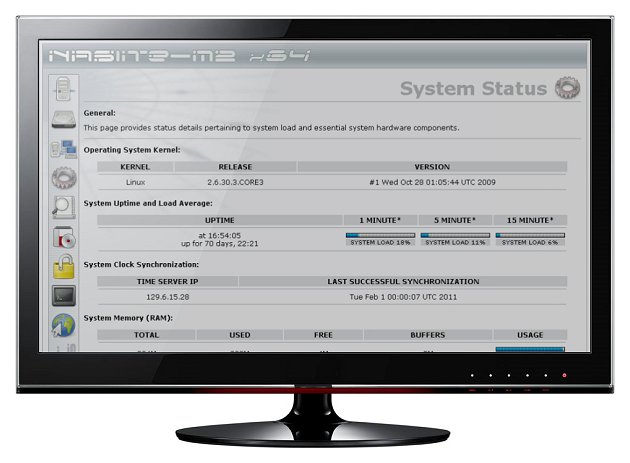 NASLite-M2 x64 Provides Extensive Status Information